Are you a remote employee in California or out-of-state employer looking for an I-9 notary to help with an I-9 verification? 
California has unique rules regarding the I-9.  The Form I-9 issued by the USCIS is an immigration document and in CA only an immigration attorney or a bonded immigration consultant can perform a I-9 verification.  It is illegal for a notary to complete it and there's no such thing as an I-9 notary in CA.
"Under CA law, the only individuals who can assist clients with completing immigration forms (such as the Form I-9) are licensed attorneys, individuals authorized under federal law to provide immigration services, and individuals qualified and bonded as an immigration consultant under California law" (Business & Professions Code, Sections 22440, 22441).
This law also applies to employers that designate individuals to act as their authorized representative.
If a notary cannot help with the I-9, how do you find a remote immigration consultant that can?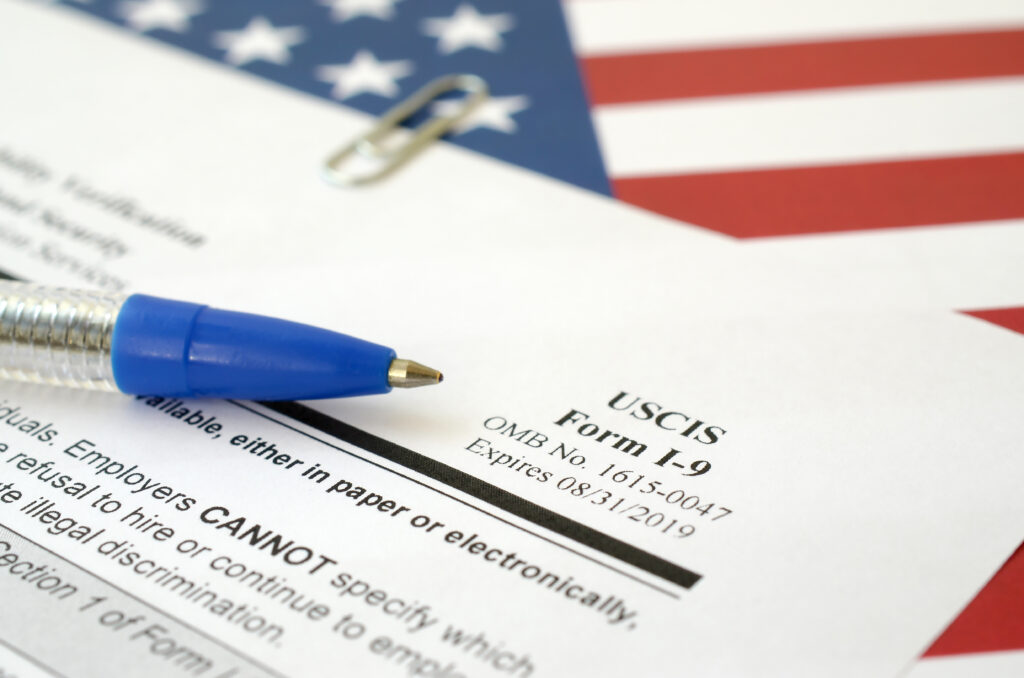 The CA Secretary of State regulates the immigration consultants, but doesn't maintain a functional database.  Their bond status can be verified on the SoS website, but the search criteria makes it very difficult to find an active immigration consultant.
Totally Notary is based in the San Francisco Bay Area and provides mobile I-9 verifications and on-site services in our Pleasanton office.
If you need help outside the Bay Area, call or email Totally Notary for a referral to an immigration consultant near you.
Helen Wardale, the owner of Totally Notary, is a registered and bonded immigration consultant legally qualified to provide I-9 verification services.  Knowledgeable and experienced, Totally Notary will complete Form I-9 accurately, greatly reducing the risk of costly fines in the event of a government I-9 audit.
What is the I-9?
The USCIS Form I-9 is an immigration document issued by the Department of Homeland Security and U.S. Citizenship and Immigration Services.
The I-9 is used to verify the identity and employment authorization of individuals hired for employment in the United States.  All U.S. Employers must properly complete the form for each individual they hire for employment in the United States.  This includes citizens and non-citizens.
The I-9 is subject to specific time requirements.  Section 1 of the I-9 may be completed once a job offer is accepted, but no later than the end of the first day of work for pay.  Section 2 of the form (the identification document verification) must be completed no later than the end of the third business day after the first day of employment.  Per the USCIS E-Verify website: If the employee starts work for pay on Monday, the third business day after the employee started work for pay is Thursday (assuming all days were business days for the employer).  The first day the employee starts work for pay is not included in the three business day calculation.
Temporary Flexibility of I-9 Form Requirements Related to COVID-19
During the pandemic, U.S. Immigration and Customs announced temporary COVID-19 accommodations for the Form I-9.  Employers were  able to inspect the identification documents via video, fax and email.  The temporary policy is ending July 31, 2023 and employers or their authorized representative will now have up to thirty days to comply with physical Form I-9 document inspection.  This means that by August 30, 2023, employers will be required to conduct physical inspections of original documents and update Form I-9 for employees whose documents were inspected remotely during the temporary COVID-19 flexibility policy.
Advice  for Out of State Employers looking for an I-9 verification:
If the employee is in CA, it's important to tell the employee that they need to find an find an immigration consultant for their I-9 verification.  It leads to confusion when the employee searches for an "I-9 notary" to complete the I-9 or for an immigration consultant to notarize the I-9.  The I-9 is an immigration document and in California only an immigration attorney or bonded immigration consultant can assist with it.  It is not notarized and a notary cannot complete it unless they are also a bonded immigration consultant.
**Form I-9 verification fees are not regulated.  The immigration consultant establishes the fee and it varies by region.**
Employer Maintenance of I-9 Verifications
Employers are required to maintain the I-9 records for 3 years from the date of the employee's hire.  The records are subject to audit by either Immigration and Customs Enforcement ("ICE") or Homeland Security Investigations ("HSI"), a division within ICE, to make sure they are accurate and that all employees have work authorization.  Immigration officials do not need a warrant to conduct an I-9 audit.  If it is determined that the employer has committed employment-related violations, they could face criminal and civil sanctions.
Employer Liability
The employer is liable for any violations in connection with the form or the verification process, including any violations of the employer sanctions laws, committed by the authorized representative the employer has designated.
This makes it imperative that the I-9 is completed properly and accurately by an individual legally qualified in the State of California to perform I-9 verifications.  To verify that an immigration consultant is in good standing, check their bond status on the CA Secretary of State website.
Mobile services available by appointment 7 days a week.
Convenient private office downtown Pleasanton
To schedule an appointment, call (925) 786-8909.
Note: Travel fees are in addition to the Notary Public fee.
Disclaimer:  I am not an attorney and I can not provide legal advice.  Please contact the document's originator with any questions pertaining to the contents of the document