On January 22, 2018, the CA DMV started to roll out the new REAL ID Driver License and ID Card.  Now Californians have the option of requesting the federal compliant REAL ID Driver License or the federal non-compliant version.
Sample of a federal compliant REAL ID Driver License
The new REAL ID Driver License  features  images of golden poppies (the state's flower), sailboats, an outline of the state through the background, and a Gold Rush miner to the card's right side. Most importantly, the licenses will have new UV images, and will contain a white REAL ID star inside a golden bear logo signifying a federally compliant license.
The REAL ID is a federal-compliant identification document that will conform with the new federal requirements that will take effect October 1, 2020.
Currently, Californians can board domestic flights and enter secure federal facilities and military bases with their CA driver licenses and ID cards.  After October 1, 2020, only federal approved identification documents such as the new REAL ID Driver License and ID Card, U.S. Passport, passport card, or military identification will be accepted for those purposes.
If you know you will not be boarding a domestic flight or visiting secure federal facilities or military bases, you do not need a REAL ID driver license or ID card.
The DMV will continue to issue the non-federal compliant driver license and ID Cards, and those will include a "Federal Limits Apply" designation.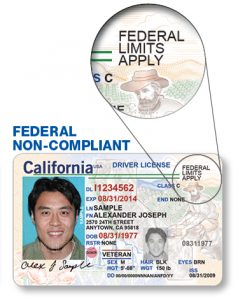 Sample of a non-federal compliant Driver License
If you are interested in applying for a REAL ID, you will need to prove your identity by submitting additional documentation.
First, you will need to present one identity document, which shows your date of birth, correct true full name, and identity such as:
Valid, unexpired U.S. Passport or Passport Card
Certified copy of U.S. birth certificate (issued by a city, county, or state vital statistics office)
U.S. Certificate of Birth Abroad or Consular Report of Birth Abroad of U.S. Citizen
Unexpired foreign passport with valid U.S. Visa and approved I-94 form.
Certified copy of birth certificate from a U.S. Territory
Certificate of Naturalization or Certificate of U.S. Citizenship
Valid, unexpired Permanent Resident Card
Valid/unexpired Employment Authorization Document (EAD) Card (I-766) or valid/expired EAD Card with Notice of Action (I-797C)
Then you will need ONE document that contains your full social security number (SSN).  The applicant must present one of the following genuine documents bearing the name of the applicant and their full social security number:
Social Security Card
W-2 form
Social Security Administration (SSA) 1099 form
Non-SSA-1099 form
Pay stub with full SSN
Next, you will need to present proof of California residency.  You will need to present ONE document that contains your residential address, your first and last name and it must match the address on the REAL ID driver license or ID card application.  If the residency document addressed to you is not readily available, there are work-arounds by using a residency document of another person you can prove a relationship to.  Acceptable residency documents are:
Rental or lease agreement with signatures of owner/landlord and tenant/resident
Deed or title to residential real property
Mortgage bill
Home utility bills (including cell phone)
School documents that include applicant's date of birth, or if a foreign school document, is sealed by the school and includes a photograph of the applicant at the age the record was issued
Medical documents
Employment documents
Insurance documents, including medical, dental, vision, life, home, rental and vehicle
Internal Revenue Service (IRS) or California Franchise Board (FTB) tax return
Change of Address Confirmation by the U.S. Postal Service
Property tax bill or statement
Faith-based documents, that include name and address of organization
Records from a financial institution
Voter registration confirmation letter or postcard
Proof of payment of residential tuition
to list a few…
Once you have your documents in order you will go to the DMV (appointments are recommended) where the staff will verify all the documents presented.  Your documents will be processed and returned to you.
To assist in the process of organizing the required documentation, the DMV has a pre-appointment checklist available online.
©2018 Totally Notary All Rights Reserved